FARGO — In the arms of her grandmother and holding her mother's favorite flower, 17-month-old Haisley Jo was surrounded by demonstrators wearing red, a color associated with a movement raising awareness of the violence facing indigenous people.
Like the sunflower in her hands, others were displayed throughout a room in the Fargo Civic Center Thursday, Feb. 14, in honor of Savanna LaFontaine-Greywind, who was killed in 2017 and Haisley Jo was cut from her womb.
While the grisly crime resulted in convictions, hundreds of indigenous families across the U.S. and Canada are still searching for missing loved ones.
"What we're dealing with here is not new. It's been going on for a long time," said tribal activist Bob Shamek.
Shamek, of Bemidji, Minn., said he was conflicted about attending the march in Fargo when a similar one was being held in Bemidji that day, just as there were marches in Minneapolis and throughout the country. But he traveled here to share his message to "stop this genocide."
Of the red silhouette cutouts representing missing indigenous women, one was for Shamek's niece, 21-year-old Alyssa McLemore, who disappeared in 2009 from Kent, Wash.
It's widely reported that indigenous women are murder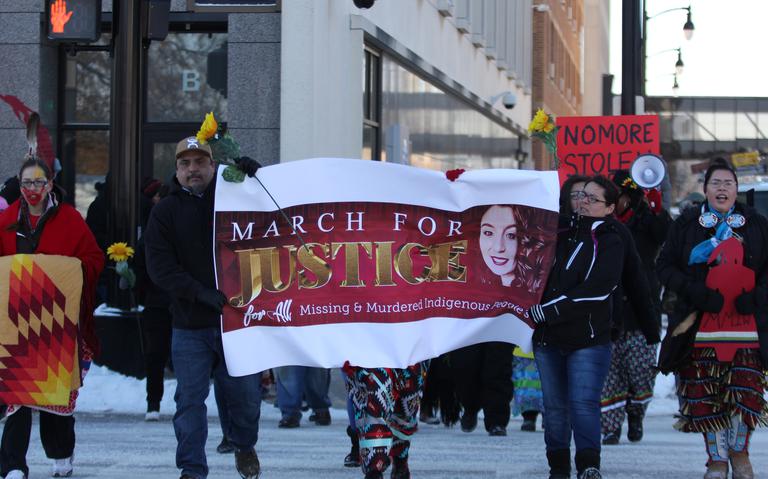 ed at a rate more than 10 times the national average. But the U.S. lacks data on the scope of the problem.
"No more stolen sisters!" was shouted by more than 100 people marching in downtown Fargo, as well as "Support Savanna's Act!"
The pending federal bill aims to combat violence against indigenous people by requiring better data collection and reporting. Along with Savanna's Act, there are statehouse bills in the Dakotas and Minnesota that would mandate law enforcement training and data collection on missing and murdered indigenous people.
On Thursday, LaFontaine-Greywind's parents, Joe and Norberta, led the march carrying a banner with their daughter's face. Despite a stinging windchill and blowing snow, a crowd followed the family with signs of support.
"I'm here to support the LaFontaine-Greywind family," said 27-year-old KalynnAnn Anderson, who had a red handprint across her face. "I'm just hoping people will open up their hearts more and see how tragic it is, the Native American genocide, and how big of a deal it actually is."
Melanie Moniz's 4-year-old daughter, Angelina, wore a yellow poster board with the words "Am I Next?"
"We must come together," Moniz said. "Please, if you are sleeping, I ask you today wake up, wake up, my people …. When we leave this world, we leave this world to our children. If we cannot protect them, who will?"
Moniz said two weeks after she moved to Fargo with her four children, they saw flashlights outside. "Right in the lot of our backyard, they were searching for our sister, Savanna Greywind. Right in our backyard."
The march was hosted by a local task force on missing and murdered indigenous people, which works to prevent further tragedies and build safer communities through education.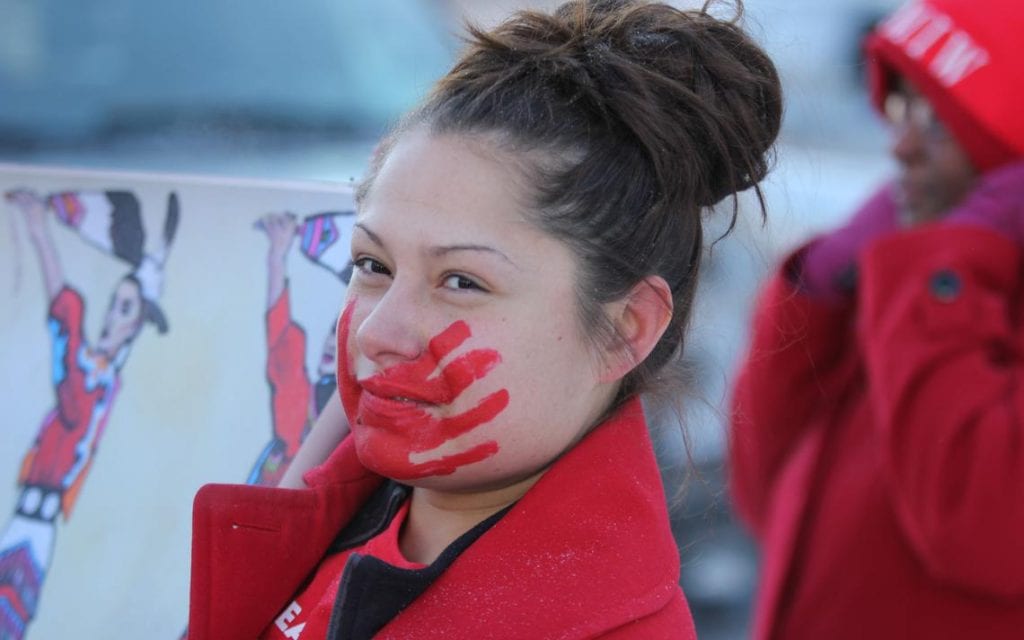 See the full story here:
https://www.inforum.com/news/crime-and-courts/970310-March-through-downtown-Fargo-puts-focus-on-violence-facing-indigenous-people#.XGZivaL24_8.link