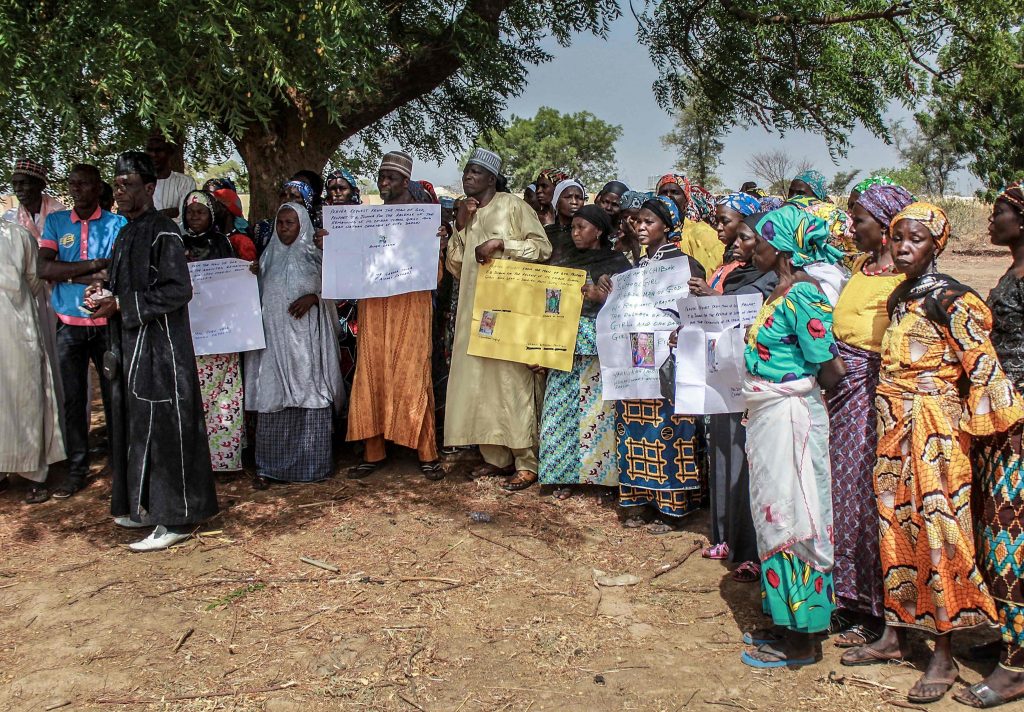 DAKAR, Senegal — Some of the young women are thriving at a new school. Some have returned home to their family farms. But the fates of more than 100 other students who were kidnapped from a school in northeastern Nigeria are unknown, five years after militants from Boko Haram abducted them.
On Sunday, the fifth anniversary of the kidnappings from the village of Chibok, President Muhammadu Buhari reiterated a pledge he had made years ago to bring back all of the students.
"We will not rest until all the remaining girls are back and reunited with their families," he said on his official Twitter account. "I made this promise when I became President, and I will keep it."
In 2014, Boko Haram militants stormed a girls' school in Chibok and made off with over 200 girls who were boarding there to take exams the next day — an act that gained widespread attention across the world with the social media hashtag #BringBackOurGirls advocating their release.
Mr. Buhari's message came after months of silence on the topic, which barely registered in campaign discourse during a heated presidential election this year. The kidnappings, which riveted a global audience at the time, seem all but forgotten by the outside world.
Protesters who once marched daily at Unity Fountain in Abuja, Nigeria's capital, have been quiet. Activists both locally and globally who had held signs and tweeted have mostly gone silent.
Yet the missing students remain constantly on the minds of their parents, who gathered Sunday at the site of the school in Chibok to offer prayers for their return.
"They are losing hope," said Allen Manasa, a spokesman for the village, adding that in five years the government had yet to brief the parents about their missing daughters.
He said the community urged "mounting pressure on the Nigerian government to explore all available means to rescue these girls."
Schoolgirls kidnapped in Dapchi, Nigeria, last year boarding a plane at a military base in Maiduguri in March 2018.
Credit

Afolabi Sotunde/Reuters
Mr. Buhari's message on Sunday sought to reassure Nigerians that he hadn't forgotten.
"We will never give up on our missing daughters," Mr. Buhari wrote on Twitter, also citing other hostages taken by Boko Haram. "In the last four years our security agencies have successfully rescued thousands of captives, and they will not relent until every captive is free."
Yet critics say it defies belief that the students remain missing.
"It is a global failure of monumental proportion that the whereabouts of hundreds of girls who went to school remain unknown in an age of intrusive technology," said Oby Ezekwesili, a former education minister who has been a leading advocate for the students' release.
For the past decade, Nigeria's northeast has been ravaged by a war with Islamist militants from Boko Haram who have made kidnapping innocent villagers one hallmark of their brutality.
A video that the militants released in 2014 of the sad-looking girls from Chibok, dressed in dark hijabs and sitting on the ground at a militants' hide-out, caught the attention of celebrities and Michelle Obama, who was photographed holding a #BringBackOurGirls placard.
When Mr. Buhari assumed the presidency in 2015, he made progress in the fight against militants, chasing them from forest hide-outs and killing scores of fighters. But in past months the militants have regrouped, and simultaneously fractured while boasting about ties to the Islamic State, which they pledged loyalty to several years ago.
Boko Haram fighters have carried out suicide bombings and stepped up attacks across the border in Niger and Chad. One faction circulated a video of a violent attack on a military installation in Nigeria.